I'm two weeks post carnival. I've written 50 'thank you' notes on behalf of my harder-working-than-I co-chairs – We really meant what I said in the notes; we are grateful to all of the 'department heads'. Whether you did it how we would've or not, each of you rocked your duties. Thank you – and attended several 'wrap up' meetings. I think I can close the carnival chapter of my volunteer life.
So, what's next? I am a frumpy,  über volunteer after all.  
"NOTHING," said my husband in the serious tone that he usually reserves for discussions about our finances, "You said the carnival would be your last 'big job'," my husband reminded me as I crawled into bed, grabbing my iPhone reflexively to answer 'just a couple more' emails. My husband checked his phone too. And there we sat as poster children for a middle-aged, two phone couple.
Who does my beloved think he married? I worked in the entertainment industry for two plus decades. Entertainment, an industry where one is only as good as your last hit – which damned well better not be longer than six months ago – unless you have multiple projects in active development. Laurels? You rest on those in your obituary. So, until then… what is my frumpy ass to do? It's been two days since I spent the day in a dark room rocking my inflexible body contorted into a fetal position with my thumb in my mouth. Clearly, I'm ready for my next challenge.
"Amy, you must see Monty Python's How Not to be Seen," my husband said taking my phone – but only after the final whoosh of 'message sent' was heard, he's not suicidal, after all – to surf for the video he mentioned.
We watched the routine from Monty Python's Flying Circus (one of their earlier strokes of genius; YouTube tells us it aired in the brilliant series' second season) which is a mock public service announcement, advising people on how not be to be noticed so as to avoid the fate of the poor bloke who jumps up when his name is called—and is consequently shot.
"You should consider this advice before you answer that Room Parent email," my husband said. He then rolled over and fell asleep immediately. How is it that men can do this – utter something provocative then pass out immediately thereafter?
Men.
But did he have a point? Should I refrain from my usual, knee-jerk 'yes, pick me, please, pick me to do this uncompensated work' response to the recent email sent out by my daughter's class parents asking for a parent to step up and assume the position for next year?
I've never been a Room Parent…. It's not that much work and… and, well, should I do it?  It's not that big a commitment, it wouldn't interfere with my other roles, right? I stewed and debated the pros and cons of room parenthood until I stumbled into sleep.
The Monty Python routine played in a loop throughout my dreams— not the absurdity of it of course, but the images of people standing up to be counted –and getting shot.
In the morning, my husband brought me coffee in bed – not unheard of but… "I think you're off the hook for future volunteer 'opportunities'," my husband said, handing me the mug. For the first time in months, my iPhone was not abuzz with carnival related emails… I actually found myself looking at my husband and smiling to greet the day rather than typing frantically, wondering how so many questions had arisen in the six hours I had dared sleep.
Hmmm… maybe there is something to 'not being seen' – such as professional pursuits, volunteering for other worthwhile non-profits, maybe even working out, eating better and drinking less?
"You know, since you don't have a school meeting, for once…" my husband said, offering to take the kids to school.
Maybe I should volunteer to help my husband more often because, as the above proved to me, he knows me well and truly loves me— in spite of myself.
"Thank you," I said kissing the love of my life … before sun-blocking the kids and clearing the breakfast dishes.
But…then…
I returned to bed and enjoyed the entire mug of coffee, ignored my iPhone and wrote this post – without being shot.
---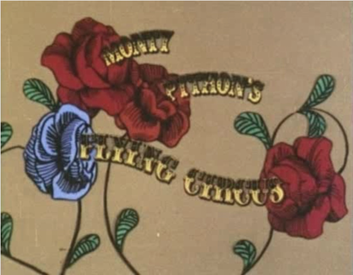 Photo credit: "Monty Python's Flying Circus Title Card" by Source (WP:NFCC#4). Licensed under Fair use via Wikipedia